Scheme of IR Dryer for Glass Screen Printing Machine
Product Detail
Product Tags
Applications:
The glass dryer is used for drying and cooling the glass after screen printing. Machine composed with drying part and cooling part and unloading part. Temperature adjustment range: room temperature -180 ° C
Features:
Adopt standard material for the machine body, and stainless steel for the inner reflector.
Adopt imported gear motor for transportation. The glass is transported by the Teflon Roller. And the transportation speed is adjustable steplessly.
There are high quality plastic rubber ring which with solvent resistance and high temperature resistance features.
Adopt hot air convective circulation system.
There are four sections of the dryer:
First section: Loading section, Used to unload the glass after screen printing and to transit the glass into drying section.
Second section: Drying section. There are four hot air drying sections. Adopt the high temperature motor to recycle the hot air from IR lamp. Make sure balanced heating on the glass. The temperature will be showed on the display. All four sections temperature can be controlled separately. There are exhaust opening on the two sides of the heating section.
Third Section: Cooling section. Adopt motors to below the airs to both sides of the glass to realize the cooling function. The temperature can be cooled under 700C. Inside cooling sections, there are air filter system, and exhaust system, ensure balance between the air and exhausted air.
Fourth Section: unloading section. Used to unload the glass after cooling. This section with up/down rack, on the racks, there are all-directions wheels and side roller to unload the glass. The foot switch is used to control the rack moving up and down.
Cylinders used to lift up the cover of the dryer. It's easy for after service and maintenance.
Adopt high quality ceramic fiber insulation board for heating insulation. Increase heating efficiency.
Specifications:
| | | | |
| --- | --- | --- | --- |
| Model | LL-IR1016GL | LL-IR1216GL | LL-IR1516GL |
| Width of dryer tunnel | 1300mm | 1500mm | 1800mm |
| Feeding width | 1000mm | 1200mm | 1500mm |
| Length of drying tunnel | 16000mm | 16000mm | 16000mm |
| Feeding speed | 2-6m/min | 2-6m/min | 2-6m/min |
| Adjusting range of temperature | Room temperature to 180℃ | Room temperature to 180℃ | Room temperature to 180℃ |
| Power of infrared radiation tube | 46.8 KW (1.3KW X 9pcsX 4 Sections) | 54. KW (1.5KW X 9pcsX 4 Sections) | 96.0KW(2.0KW X 12pcsX 4 Sections) |
| Motor power | 1.5KW X 1pcs | 1.5KW   | 1.5KW X 1pcs |
| Total power | Around 58KW, 380V, 50HZ | 62 KW, 380V, 50HZ | 121KW, 380V, 50HZ |
| Air consumption | 10L/Min, 6kg/c㎡ | 10L/Min, 6kg/c㎡ | 10L/min; 6kg/c㎡ |
| Mechanical dimension | 16000×1300× 1600mm | 16000×1500× 1600mm | 16000×1800× 1600mm |
| Working Height | 900mm+20mm | 900mm | 1800mm |
| | | | |
| --- | --- | --- | --- |
| Model | LL-IR1916GL | LL-IR2016GL | LL-IR2518GL |
| Width of dryer tunnel | 2200mm | 2300mm | 2900mm |
| Feeding width | 1900mm | 2000mm | 2500mm |
| Length of drying tunnel | 16000mm | 16000mm | 18000mm |
| Feeding speed | 2-6m/min | 2-6m/min | 2-6m/min |
| Adjusting range of temperature | Room temperature to 180℃ | Room temperature to 180℃ | Room temperature to 180℃ |
| Power of infrared radiation tube | 90.0KW(2.5KW X 9pcsX 4 Sections) | 93.6KW(2.6KW X 9pcsX 4 Sections) | 129.6KW(5.4KW X 6pcsX 4 Sections) |
| Motor power | 1.5KW X 1pcs | 1.5KW X 1pcs | 1.5KW   |
| Total power | 105KW, 380V, 50HZ | 108KW, 380V, 50HZ | 150KW, 380V, 50HZ |
| Air consumption | 6kg/c㎡ | 40L/Min, 6kg/c㎡ | 40L/min, 6kg/c㎡ |
| Mechanical dimension | 16000×2200× 1600mm | 900+20mm | 18000×2900× 1550mm |
| Working Height | 2200mm | 16000×2300× 1600mm | 2900mm |
| | | | |
| --- | --- | --- | --- |
| Model | LL-IR3018GL | LL-IR6015GL | LL-IR8016GL |
| Width of dryer tunnel | 3400mm | 900mm | 1100mm |
| Feeding width | 3000mm | 600mm | 800mm |
| Length of drying tunnel | 18000mm | 15000mm | 16000mm |
| Feeding speed | 2-6m/min | 2-6m/min | 2-6m/min |
| Adjusting range of temperature | Room temperature to 180℃ | Room temperature to 180℃ | Room temperature to 180℃ |
| Power of infrared radiation tube | 144KW(6KW X 6pcsX 4 Sections) | 28.8 KW (0.8KW X 9pcsX 4 Sections) | 43.2 KW (1.2KW X 9pcsX 4 Sections) |
| Motor power | 1.5KW X 1pcs | 1.5KW X 1pcs | 1.5KW X 1pcs |
| Total power | 140KW, 380V, 50HZ | 38KW, 380V, 50HZ | 54KW, 380V, 50HZ |
| Air consumption | 40L/Min, 6kg/c㎡ | 10L/Min, 6kg/c㎡ | 10L/Min, 6kg/c㎡ |
| Mechanical dimension | 900+20mm | 15000×900× 1600mm | 16000×1100× 1600mm |
| Working Height | 18000×3400× 1600mm | 900mm | 900mm+20mm |
---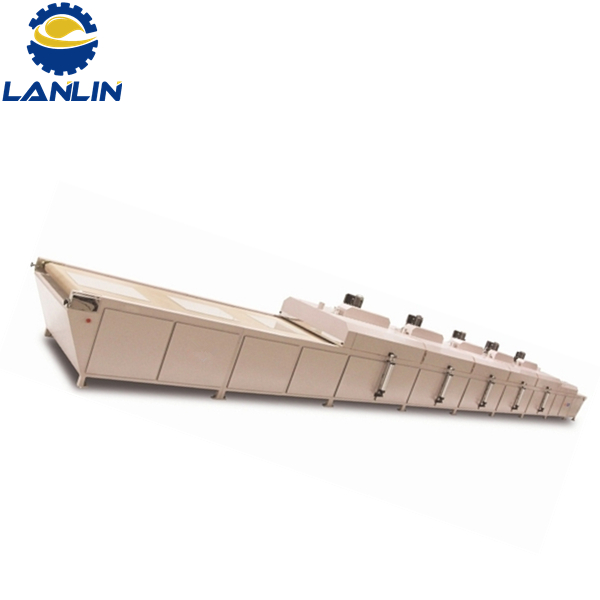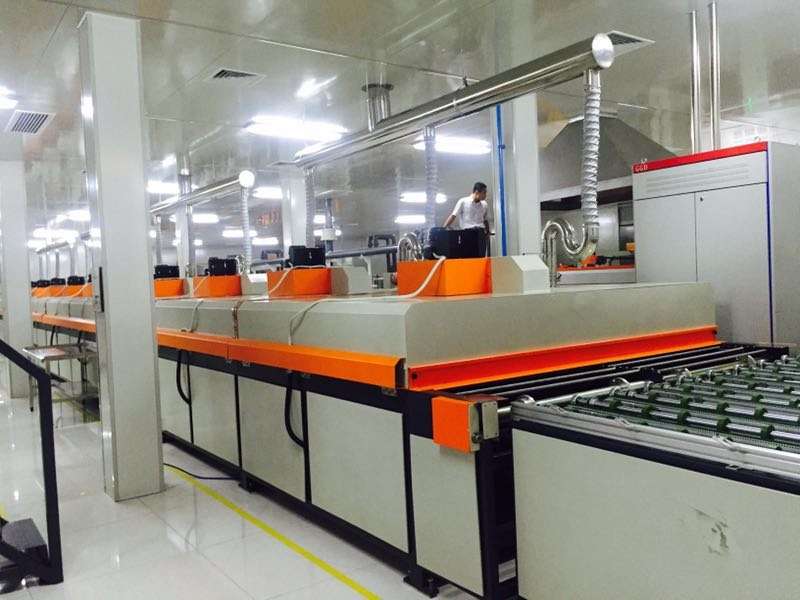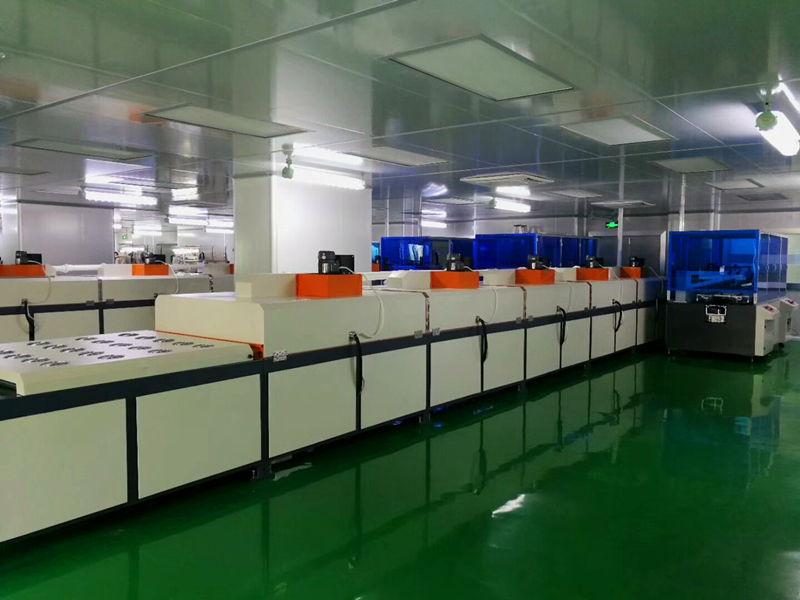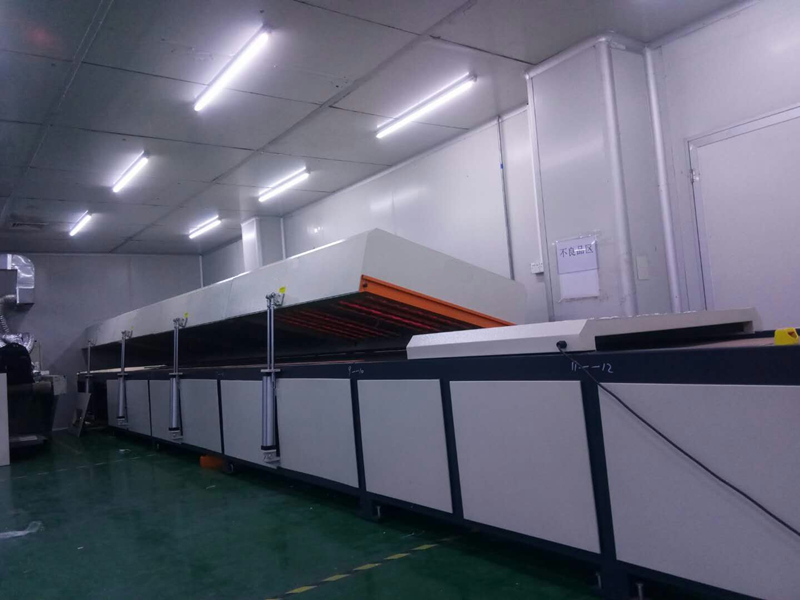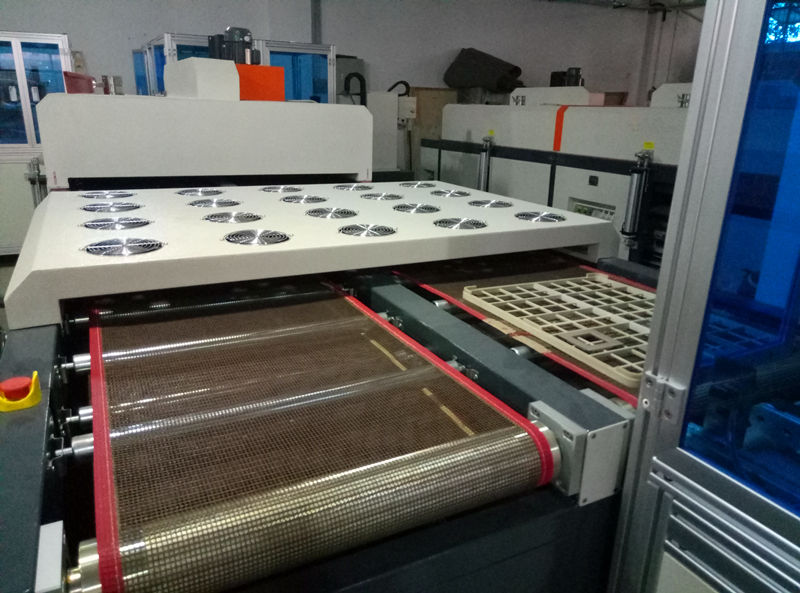 ---
Previous:
Automatic Glass Screen Printing Line
---