What Are The Advantages&Disadvantages Of Buying Silk Screen Printing Machine For Your Printing Business?
Silk Screen Printing Machine is a famous machine in printing industry, and It's also a popular technique used in a whole range of different industries.
Even if you don't realize the term, in our lives, you can access all kinds of wine bottles, shampoo bottles, baby bottles, electronic products. This process is screen printing or serigraphy, no matter what the name is, it refers to the basic method we will talk about today.
In this article, we'll cover all of your questions about silk screen printing, including:
What is Silk Screen Printing?
The Pros and Cons of Silk Screening Printing
An example: Bottle Silk Screen Printing
Why choose Lanlin Printech ?
1. What is Silk Screen Printing?
About screen printing,it is a traditional print technique that's been used for many years. the technique actually dates back to early China (between 960 and 1279 AD). It was the technique used by Andy Warhol in the sixties for his Marilyn Monroe and Elvis Presley prints.
In recent years, silk screening has gained popularity, and become a preferred technique for decorating bottles and other containers or garments.
In the screen printing process, an ink blocking template is created on fine mesh or polyester fabric and applied to the woven mesh, and several layers of ink are pushed onto the surface of the printed material through the template layout. Using different screen stencils, all different ink colors can be applied to produce the final printing effect. It is necessary to keep the area of transparent printing material covered with impermeable substances to prevent ink contamination. This process can be used for monochrome and multicolor printing.  
Glass Bottle Screen Printing Machine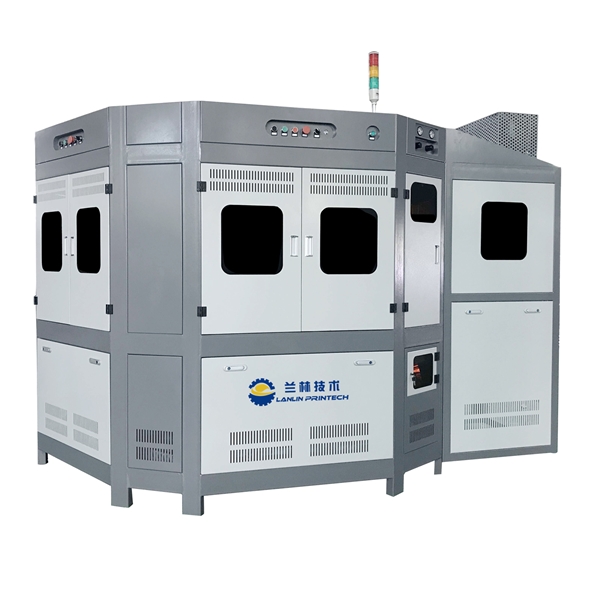 2. The Pros and Cons of Silk Screening Printing
Today's screen printing equipment is highly sophisticated and largely automated. It is ideal for carrying out quick and effective printing on cotton, dri-fit polyester, metal, wood, plastic, glass, textiles, signs, banners, electronics,and other promotional products; However, as with anything, Silk Screening Printing does have its pros and cons. In this article we dive into some of the advantages and disadvantages .  
Advantages of Silkscreen Printing
When it comes to screen printing, one of the major benefits is that it's a really effective solution for bulk printing as its extremely cost-efficient. Other pros of screen printing include:
1).Cheap for large quantity printing;
2).A higher quality output than digital prints;
3).It's easy to print on specified areas of the print material;
4).More durable for prints that are needed over the long-term;
5).Designs can be very detailed (e.g. small text, fine lines);
6).Cost effective when fewer ink colors are needed (i.e. 1 or 2 colours);
7).Can be used on a variety of different print materials,suitable for cotton, dri-fit polyester, metal, wood, plastic, glass, textiles, signs, banners, electronics, ect.;
8).Silkscreen prints are light and thin, resulting in garments having a soft-hand feel;
9).Silkscreen screens can be kept and reused, reducing lead times for repeat orders;
However it's not the best method for printing items with intricate detail.
While screen printing is ideal for larger designs consisting of just a couple of colours, it can get quite expensive if you require multiple colours, as each has to be applied separately.
When using multiple colours, there's also a risk of registration, however this can usually be resolved by overprinting (printing one colour on top of another). Screen printing can also be fairly time consuming to set up and clean, which is why most businesses tend to outsource any screen printing, rather than conduct it in-house.  
Disadvantages of Silkscreen Printing
One of the main disadvantages of screen printing is that it has a much higher initial setup cost than digital printing and takes more time. Other cons of screen printing include:
1).Not cost effective for smaller quantities;
2).Not cost effective when design has many colors (i.e. 3 colours or more);
3).Only cost effective if design graphics are identical across each piece;
4).Silkscreen can be troublesome to execute as it requires specialized knowledge and materials;
5).For first time orders lead time can be relatively long as specific screens must be made for each ink color;
We always advise clients to opt for screen printing if they need higher quality, more professional appearance for prints. However, we ensure our clients are aware of the extra amount of time needed to prepare the screens and the cost implications of screen printing. Screen printing is most suitable for bulk orders that don't require much customisation or wide use of different colours.
We already finished the Advantages&Disadvantages Of Silk Screen Printing Machine, Now we take an example for your better understanding.
3. Bottle Silk Screen Printing
Bottle screen-printing is done by screen-printing ink directly onto the packaging. There are no labels at all.This occurs when a printer applies a mesh pattern to a label and pumps ink through a mesh to produce a label image. This is also known as screen printing. If the color is limited and the batch is medium to long term, it may be a cost-effective option.Bottle screen printing is a popular option because the end result is tactile, durable, versatile and attractive. but there are some drawbacks.Let's take a closer look at why you decided for or against bottle screen-printing.
Pros:
1).You will think it clean and beautiful.
Typically, bottles that are screen printed only have one or two colors. Think about your favorite shampoo bottle, which often is printed silkscreen;
2). You can use it be durable.
Screen printing on bottles addresses one of the biggest problems that paper labels pose i.e durability. Bottle screen printing is durable against scuffing, weather, UV light and water. It also has chemical resistant properties. Factors such as shelf wear, scuffing, and moisture are known to significantly reduce the lifespan of paper labels. Silk screening uses scratch-resistant inks such as ultra-violet ink and epoxy ink to make the decorations last for a long time;
3).You can use opaque colors.
Many brands like this, especially when printing white silkscreen on clear containers. It stands out more than standard white inks used on labels because flexo inks are less opaque due to their low viscosity. Silkscreen pops!
4).You can add special textures.
This is known as high build silkscreen and it happens when the labels go through the silkscreening process but then are purposely raised to a level where the characters can be felt or distinguished;
5).You can save money if large volume printed.
This is because there is a single process to produce the finished goods, so you don't need to coordinate secondary steps;
6).It's Cost-effective.
The initial cost that is required for screen printing is quite low, as compared to many other printing techniques. What's more, it offers a higher ROI, especially for large quantity and one-color decorations;
7).It's distinctive Branding.
Screened bottles enable your products to stand out from the variety of competing products in any retail setting. The labeling is unique, with regard to creativity and design, since it gives you the chance to combine the beauty of the glass bottle to create compelling designs and color effects. This helps you to create a memorable impression on customers;
8).It's wide Print Area:
With silk screening, the entire surface of the bottle is available to be used as a canvas. Silk screening enables you to come up with creative designs that are not confined to the shape and size of your bottles. You can also use a variety of silk-screened inks to bring out saturated colors and textural qualities of your designs;
9).It's versatility:it can print all kinds of bottles,like plastic,glass, PP, PVC;
10).It's leading time: it can be much shorten;
Cons:
1).It can be more expensive if you're getting a short run or mid-sized order with multiple skus;
2). It can also be pricey if you're getting more than three colors on your container;
3).The tooling can be expensive. Silkscreen tooling can average thousands of dollars compared to label tooling, which averages in the hundreds;
4).Waste is pricier. You'll lose more if a bottle gets thrown away due to a mistake, rather than just a label;
5).It requires a lot more inventory space. Inventory space is a concern with bottle screen printing. In order for it to be cost-effective, you must typically have a minimum order quantity of at least 2,500 or 5000 bottles/SKU. Because this method is printed directly onto the packaging and most retailers want their manufacturers to hold finished goods for each item, you may need to have a lot of space if you have multiple skus. The end result, you're required to store a good amount, which can easily take up a lot of room in a warehouse, depending on your container size;
4. Why choose Lanlin Printech?
1). Factory found 1993;
2). Qualified and skilled working team;
3). Rich experience in export machines to European and American countries; 
4). Comply with China and Europe and America requirements;
5. Contact us:
Our website is lanlinprintech.com. To discuss your screen print project contact Zhaolin Li online or call +86 15909455710,.    
---
Post time: Jun-01-2020